Duke in His Own Words: John Wayne's Life in Letters, Handwritten Notes and Never-Before-Seen Photos Curated from His Private Archive (Paperback)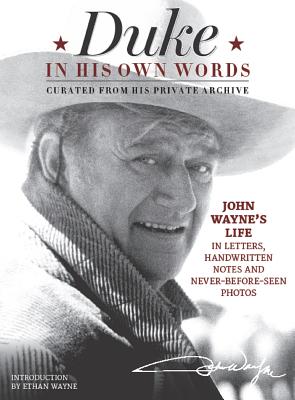 Description
---
John Wayne was more than just an on-screen personality beloved by millions the world over. His movie persona was justy that - a persona. The man behind the legend, whom friends and family called "Duke," "Everlovin'" and "Dad," was an even stronger example of old-school American masculinity than the characters he played on the screen. But until now, most only knew the man on the marquee.
With Duke: In His Own Words, the Wayne Family has opened their private archives to enable the creation of this amazing compendium of John Wayne's personal letters, telegrams, cards and memos. In these unaltered exchanges with people from every station of life and all corners of the globe, Duke's true identity jumps off the page. Whether he's writing to fans or family, platoons or presidents, he's always candid, colorfui and quick with a joke.
Inside you'll find:
- An introduction by Ethan Wayne, John Wayne's son
- Exclusive, personal letters Duke sent to family members, friends and fans - along with those to American troops and former Comanders in Chief
- Firsthand stories and anecdotes from Duke's nearest and dearest
- Never-before-seen photos straight from the Wayne Family archives
Duke: In His Own Words offers an honest portrait of the good-natured family man, the opinionated patriot, the humble superstar - all sides of the real John Wayne, and all presented by the man himself.
About the Author
---
The Official John Wayne Collector's Edition magazine is a bi-monthly celebration of the life and legacy of one of America's greatest icons. Created with the help of the actor's youngest son, Ethan Wayne, and featuring exclusive photos, stories, and memorabilia from the Wayne Family Archives, the Official John Wayne Collector's Edition is the world's foremost authority on all things Duke.