Thug Kitchen: Eat Like You Give A F*ck (Hardcover)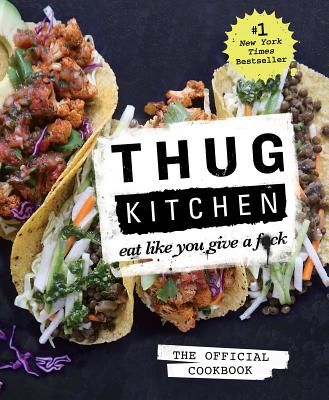 Staff Reviews
---
"Eat like you give a f@!k."

As a committed omnivore, I have no interest in ever undertaking a vegan diet. I do, however, love to make food from this book. Silly, irreverent, and uproarious, the authors present recipes free of animal product that can just as easily be adapted to satisfy any carnivore (believe me on this one). The roasted sriracha cauliflower bites and lentil tacos are worth the price of the book alone. Want to eat more millet, jicama, nutritional yeast, and chia seeds? This book will help. Trust me, I have embraced eating the f@!k out of all of these things.
— From
Krys
Description
---
Thug Kitchen started their wildly popular web site to inspire people to eat some goddamn vegetables and adopt a healthier lifestyle. Beloved by Gwyneth Paltrow ("This might be my favorite thing ever") and named Saveur's Best New Food blog of 2013--with half a million Facebook fans and counting--Thug Kitchen wants to show everyone how to take charge of their plates and cook up some real f*cking food.
Yeah, plenty of blogs and cookbooks preach about how to eat more kale, why ginger fights inflammation, and how to cook with microgreens and nettles. But they are dull or pretentious as hell--and most people can't afford the hype.
Thug Kitchen lives in the real world. In their first cookbook, they're throwing down more than 100 recipes for their best-loved meals, snacks, and sides for beginning cooks to home chefs. (Roasted Beer and Lime Cauliflower Tacos? Pumpkin Chili? Grilled Peach Salsa? Believe that sh*t.) Plus they're going to arm you with all the info and techniques you need to shop on a budget and go and kick a bunch of ass on your own.
This book is an invitation to everyone who wants to do better to elevate their kitchen game. No more ketchup and pizza counting as vegetables. No more drive-thru lines. No more avoiding the produce corner of the supermarket. Sh*t is about to get real.
About the Author
---
The Thug Kitchen crew is an LA-based duo.