I Before E (Except After C): The Young Readers Edition: Easy, Cool Ways to Remember Facts (Hardcover)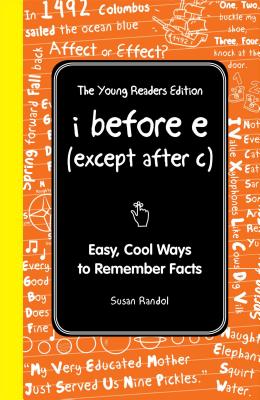 Description
---
I before e (except after c)
teaches kids smart ways to remember all the things they learn about in school. The book is full of techniques and presents cool ways to remember a variety of facts on a variety of subjects. Just like adults, kids need easy ways to recall stuff-especially now, when they don't even have to remember a phone number because their cell phones remember it for them. And just like the bestselling
i before e (except after c)
for adults, this book is jammed with easy-to-use tricks for remembering lots of stuff-especially stuff they need to know for school. Through entertaining (and often silly) examples, kids will learn to remember everything they need to know about:
The Earth-including fun facts about geography, geology, and the weather- and the sky -revolving around planets, stars, atmosphere, and so on
Reading and writing-covering everything from the smallest punctuation mark to the prickliest words to spell to the trickiest grammar to the grandest figure of speech
The mysteries of history-from Way Before You Were Born (ancient history) to the most recent American history facts every kid needs to memorize
Math and music-a surprising, but logical combination that examines cool ways to remember numbers, times tables, calculations, and musical notations
Kids will like learning fun ways to remember stuff and will
love
getting the good grades that follow.
About the Author
---
Susan Randol is the author and editor of many books, including Redbook Mom's Survival Guide. She lives outside of New York City with her family. Andrew Pinder initially studied archaeology, and worked as an archaeologist and prehistorian, directing excavations and producing illustrations for museums, books and specialist publications. When he moved to Mallorca he began to work as an illustrator, painter and muralist.? He has had numerous one man exhibitions on Mallorca and has work in various public and private collections. As an illustrator he has worked on more than twenty books, mainly for children, in Catalan, Spanish and English.