Larklight (Paperback)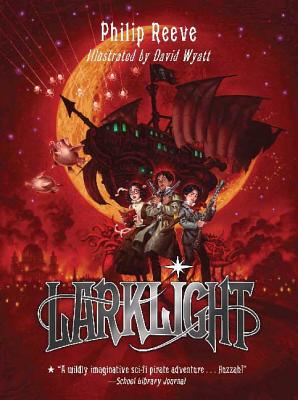 Staff Reviews
---
This is one of the most fun books that I read in a long time. Imagine if Frank Herbert, George Lucas, Terry Gilliam, and Jules Verne have a book baby together. You might have something like this book. Philip Reeve creates a universe where Sir Isaac Newton invented an alchemical process that can be used to fuel starships. Now imagine that the British and the French have use this process to take their colonization feud into space? The result is a place where people live in the furthest reaches during the Victorian period, fish who can swim (and breathe) in the aether, and children being raised in remote locales. Oh, and there's also space pirates, giant spiders, loads of footnotes, and illustrations. Hilarity ensues.
— From
Krys
Description
---
Arthur (Art) Mumsby and his irritating sister Myrtle live with their father in a huge and rambling house called Larklight that just happens to be traveling through outer space. When a visitor called Mr. Webster arrives for a visit, it is far from an innocent social call. Before long Art and Myrtle are off on an adventure to the furthest reaches of space, where they will do battle with evil forces in order to save each other and the universe. A fantastically original Victorian tale set in an outer space world that might have come from the imaginations of Jules Verne or L Frank Baum, but has a unique gravitational pull all its own
About the Author
---
Philip Reeve worked in a bookshop and produced and directed several theater projects before embarking on a career as an illustrator and a writer. His first novel, Mortal Engines, was shortlisted for the Whitbread Children's Book Award and won the GOLD Nestle Smarties book prize. He lives in Devon, England, with his wife and their son.David Wyatt has illustrated books and covers for authors including Terry Pratchett, Philip Pullman, Diana Wynne-Jones, Alan Garner, and J. R. R. Tolkien. He lives in Devon, England.