Young Mozart (Hardcover)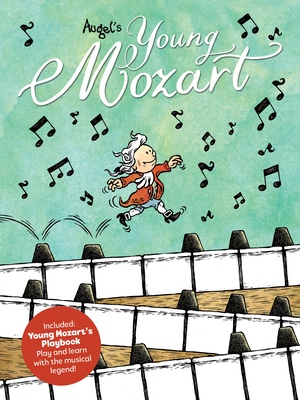 Description
---
A tender and playful glimpse into the childhood of the world's greatest musical genius.
"Wolferi's inspired musical antics spark the reader's imagination. It's a wonderful mix of historically accurate information and humor that brings out the playful child inside of all of us. You'll have so much fun during the journey, you won't realize how much you've learned " - Joanne Pearce Martin, Principal Keyboardist for the Los Angeles Philharmonic
BONUS: Young Mozart's Playbook featuring games and activities
Little Wolfgang Amadeus Mozart lives only for music--and he already knows how to appreciate it in all its forms, even the most unexpected.
The young virtuoso is looking for--and finding -- inspiration wherever it hides, even in the cries of Nannerl, his sister, or the poop of his dog. He takes lessons from the birds, crickets and frogs, intertwining every note into his great masterpieces.
Based on real events in Mozart's childhood. A charming tale, riddled with good humor, and real musical chords. This book resonates with music lovers of all ages.