Man of the World: The Further Endeavors of Bill Clinton (Hardcover)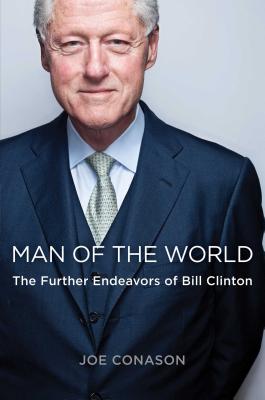 Description
---
"A rich, believable portrait of a master politician out of office: needy, rivalrous, thin-skinned, proud, hot-tempered." —The New York Review of Books

Veteran political journalist Joe Conason brings you along with Bill Clinton, as the forty-second president blazes new paths in his post-presidential career.

It is unlike the second career of any other president: "Bill Clinton" is a global brand, rising from the dark days of his White House departure to become one of the most popular names in the world. Conason describes how that happened, examining Clinton's achievements, his failures, his motivations, and his civilian life. He explains why Clinton's ambitions for the world continue to inspire (and infuriate).

Conason, who has covered Clinton for twenty years, interviewed him many times for this book—as well as Hillary and Chelsea and many of his friends, aides, rivals, and supporters. He has travelled with Clinton to Africa, Haiti, Israel, and across America.

Clinton has earned tens of millions of dollars and raised billions for philanthropy, much of it from foreign sources, provoking questions about transparency and probity even as Hillary Clinton runs again for the presidency.

Conason closely examines the financial support from other countries, corporations, and wealthy individuals, while assessing the Clinton Foundation's very real, far reaching achievements. He observes Clinton campaigning for his wife and asks: How would America's very first First Gentleman fare in a Hillary Clinton White House?

Man of the World—starring the one and only Bill Clinton—tells the engrossing story of an extraordinary man who is still seeking to do good in the world.
About the Author
---
Joe Conason is editor-in-chief of The National Memo and an editor at The Investigative Fund. A widely published columnist and reporter, he is the author of several books, including Big Lies, and coauthor of the New York Times bestseller The Hunting of the President: The Ten-Year Campaign to Destroy Bill and Hillary Clinton. He lives in New York City with his family.
Praise For…
---
"Man of the World, by Joe Conason, is so valuable…[The book] offers a great deal of interesting detail and, just underneath the surface, a rich, believable portrait of a master politician out of office: needy, rivalrous, thin-skinned, proud, hot-tempered."

"The author's often absorbing chronicle captures the energy and charisma of the former president as he turns to the admiring global community, launching a "frantic, peripatetic career as the world's best-paid public speaker" and finding a mission in his philanthropic work in Africa, Asia, and elsewhere. . . . the book offers sharp insights . . . The author offers many telling details."

"Conason shows his writing and research chops to full advantage in this engrossing look at former president Bill Clinton in his post-presidency years. From the book's first page—a detailed January 2001 snapshot of Clinton's first morning as a private citizen—the book grabs the reader's attention and holds on tight. . . . detailed and intimate . . . . Coming in the midst of a particularly fierce election season, this look at Clinton and his extraordinary work ethic may strike readers as almost poignant."

"This deeply researched narrative about the 16 years since Bill Clinton left office sheds light on his strengths and weaknesses."

"A compelling portrait"