Lumberjanes: The Good Egg (Lumberjanes #3) (Hardcover)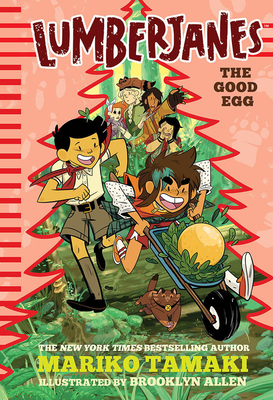 Description
---
Welcome to Miss Qiunzella Thiskwin Penniquiqul Thistle Crumpet's Camp for Hardcore Lady Types. The five scouts of Roanoke cabin—Jo, April, Molly, Mal, and Ripley—love their summers at camp. They get to hang out with their best friends, earn Lumberjane scout badges, annoy their no-nonsense counselor Jen . . . and go on supernatural adventures. That last one? A pretty normal occurrence at Miss Qiunzella's, where the woods contain endless mysteries.

Book three shines the spotlight on Ripley, the smallest, youngest, most animal-loving member of the cabin. When Ripley comes across an abandoned egg, she's determined to take care of it until the parent comes back. Unfortunately, her plan is quickly foiled by egg poachers, who steal the egg for their own collection.

About the Author
---
Mariko Tamaki is a writer known for her graphic novel This One Summer, a Caldecott Honor Book and Printz Award winner, cocreated by her cousin Jillian Tamaki, among other notable works. Visit her at marikotamaki.blogspot.com. She lives in Oakland, California.
Brooklyn Allen is a cocreator and the original illustrator of the Lumberjanes series and a graduate of the Savannah College of Art and Design. He lives in Richmond, Virginia, and can be found online at brooklynaallen.tumblr.com.