Furiously Happy: A Funny Book about Horrible Things (Hardcover)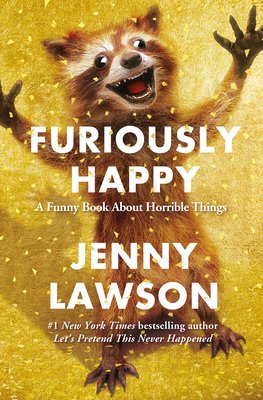 Staff Reviews
---
Whether you are a long time fan or meeting Jenny Lawson for the first time with this book, you are in for a treat! It is ridiculous, funny and, well, furiously happy--even in the face of depression, anxiety, and moments of just plain craziness.
Lawson chronicles the absurdities of her life with self-deprecation as she heads to an Australian zoo to hold a koala while wearing a koala suit, tries out a few late night cat rodeos, etc. Sometimes, these hijinks even result in photos that intersperse the book.
In short, I'm really not sure how you could have more fun reading a book. So, put mathematically:
reading Furiously Happy = being furiously happy.
Of course, maybe you don't like being happy. That'd be a real game-changer and I'd have to tell you not to read this. That'd be sad. But then, if you wanted to be sad...I guess that's okay too.
Wait, what happened there? We got off track. I love this book and I want you to love it too. Please read it so that I can feel like I have spread some joy.
— From
Sarah
October 2015 Indie Next List
---
"Anyone living with depression knows that it's like being held hostage by your own brain, and sometimes survival means clinging to the knowledge that it won't last forever. Lawson takes this to the next level in Furiously Happy, her catalogue of the wonderful, ridiculous adventures that she has gone on in an effort to make the good times overshadow the bad. By fearlessly embracing her weirdness and being open about her experiences with mental illness in a culture that still largely stigmatizes and misunderstands such disorders, Lawson shines a light on what it's like to live with depression, OCD, insomnia, and anxiety. More than that, though, she shows that it is possible to fight back - even if it sometimes requires holding a midnight raccoon rodeo."
— Marita Rivir (M), Joseph-Beth Booksellers, Cincinnati, OH
Description
---
In Furiously Happy, #1 New York Times bestselling author Jenny Lawson explores her lifelong battle with mental illness. A hysterical, ridiculous book about crippling depression and anxiety? That sounds like a terrible idea.
But terrible ideas are what Jenny does best.
As Jenny says
"Some people might think that being 'furiously happy' is just an excuse to be stupid and irresponsible and invite a herd of kangaroos over to your house without telling your husband first because you suspect he would say no since he's never particularly liked kangaroos. And that would be ridiculous because no one would invite a herd of kangaroos into their house. Two is the limit. I speak from personal experience. My husband says that none is the new limit. I say he should have been clearer about that before I rented all those kangaroos.
"Most of my favorite people are dangerously fucked-up but you'd never guess because we've learned to bare it so honestly that it becomes the new normal. Like John Hughes wrote in The Breakfast Club, 'We're all pretty bizarre. Some of us are just better at hiding it.' Except go back and cross out the word 'hiding.'"
Furiously Happy is about "taking those moments when things are fine and making them amazing, because those moments are what make us who we are, and they're the same moments we take into battle with us when our brains declare war on our very existence. It's the difference between "surviving life" and "living life." It's the difference between "taking a shower" and "teaching your monkey butler how to shampoo your hair." It's the difference between being "sane" and being "furiously happy."
Lawson is beloved around the world for her inimitable humor and honesty, and in Furiously Happy, she is at her snort-inducing funniest. This is a book about embracing everything that makes us who we are - the beautiful and the flawed - and then using it to find joy in fantastic and outrageous ways. Because as Jenny's mom says, "Maybe 'crazy' isn't so bad after all." Sometimes crazy is just right.
About the Author
---
JENNY LAWSON, The Bloggess, is an award-winning humor writer known for her great candor in sharing her struggle with depression and mental illness. Her two memoirs, Let's Pretend This Never Happened and Furiously Happy, were #1 New York Times bestsellers.