A Long Way from Home: A novel (Hardcover)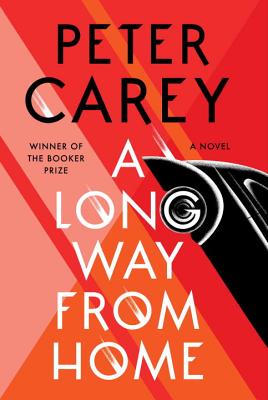 March 2018 Indie Next List
---
"Carey uses the Australian cross-country Redux auto trials of the 1950s to explore how the need to be accepted directs our motivations and, accordingly, our fates. Titch and Irene Bobs join up with their neighbor Willy Bachhuber, a maps expert, to race the Redux. For Titch, an opportunistic car salesman, the race represents the chance to seize national fame - and the respect of his larger-than-life father. Through the journey, Carey delves into Australia's virulent racism toward its indigenous populations and its embedded intolerance of miscegenation. As the miles accumulate, Irene and Willy's lives change in profound ways, and we, in turn, experience Carey's wit, heart, and intelligence, as well as his skill in bringing these characters and this place and time so vibrantly to life."
— Lori Feathers, Interabang Books, Dallas, TX
Description
---
The two-time Booker Prize-winning author now gives us a wildly exuberant, wily new novel that circumnavigates 1954 Australia, revealing as much about the country/continent as it does about three audacious individuals who take part in the infamous 10,000-mile race, the Redex Trial.

Irene Bobs loves fast driving. Her husband is the best car salesman in southeastern Australia. Together they enter the Redex Trial, a brutal race around the ancient continent, over roads no car will ever quite survive. With them is their lanky, fair-haired navigator, Willie Bachhuber, a quiz show champion and failed schoolteacher who calls the turns and creeks crossings on a map that will remove them, without warning, from the white Australia they all know so well. This is a thrilling high-speed story that starts in one way, and then takes you someplace else. It is often funny, more so as the world gets stranger, and always a page-turner even as you learn a history these characters never knew themselves.
Set in the 1950s, this is a world every American will recognize: black, white, who we are, how we got here, and what we did to each other along the way.

A Long Way from Home is Peter Carey's late-style masterpiece.
About the Author
---
PETER CAREY is the author of thirteen previous novels. In addition to the Booker Prize, his honors include the Commonwealth Writers' Prize and the Miles Franklin Literary Award. Born in Australia, he has lived in New York City for more than twenty-five years.
Praise For…
---
"Not since True History of the Kelly Gang has he seemed so on-song."
—Andrew Dickson, Financial Times
 
"His best novel in years, maybe decades."
—Alex Preston, The Guardian (UK)

"Peter Carey deserves the Nobel Prize in literature for lifting the heart."
—Allison Pearson, The Telegraph (UK)

"Evocative and exciting . . . Rip-roaring colour and action . . . this is the first time he's directly dealt with Aboriginal history, and A Long Way From Home is all the more powerful for it."
—Lucy Scholes, The Independent (UK) (four stars)
 
"An Ebullient comic caper. . . . Intensely engaging in more ways than one, [a] high-octane novel."
—Peter Kemp, The Sunday Times (UK)
 
"[An] on-the-road adventure, revisionist history and moral fable . . . a rich narrative stew."
—Robert Douglas Fairhurst, The Times (UK)

"A profound and poignant story . . . determined to unearth the richness of Aboriginal culture even while respecting its secrets. Those conflicting goals ultimately find perfect expression in Carey's strange narrative."
—Ron Charles, The Washington Post
 
"What a delightful writer Peter Carey is, and how varied are the delights he offers. . . . There's the supple and musical prose . . . filled with flashes of poetic brilliance. . . . . A Long Way from Home charts old territory and strikes out in new directions. It's one of Carey's best, and boldest, efforts yet."
—Anthony Domestico, The Boston Globe
 
"Peter Carey's new novel is a pretty remarkable beast. . . . Strange, tender, always somehow comical . . . A wild, strange, magical ride of a book."
—Sam Leith, The Telegraph (UK)
 
"A moving meditation on multiple forms of paternal failure and the culture of racism that have shaped modern Australia. To give away more would risk spoiling the genuine pleasures."
—Patrick Flanery, The Spectator (UK)
 
"A Long Way from Home is a novel full of riches. The road race propels the plot along, but it's really a book about cultural identity, about family, about the ability to empathise with others. As such, it's hugely relevant for our times."
—Arminta Wallace, Irish Times
 
"I couldn't have imagined that a car race could be so enthralling."
—Tessa Hadley, The Guardian (UK)

"A Long Way from Home reminds us that great novels are not ideological—neither exploitative nor excessively well-meaning—but tough-minded, complex admissions of failure, guilt and confusion."
—Geordie Williamson, The Australian
 
"A major work of fiction by the writer who will probably be regarded, in a hundred years, as the leading Australian novelist from the early part of the twenty-first century. . . . A highly enjoyable reading experience."
—Paul Giles, Australian Book Review
 
"This picaresque comedy goes thematically deeper as it heads into the Outback. The antic tone of this 14th novel by Australian-born Carey belies its serious ambition. The comic spirit slyly suggests Shakespeare, an inquiry into identity and the farcical human existence. . . . Carey's novel raises issues of culture and race that carry a thoroughly contemporary charge."
—Kirkus Reviews (starred review)
 
"One of Australia's greatest authors . . . Carey employs both a multi-voice narrative and a continent-spanning car race to emulate the disparate voices and fits and starts that comprise Australia's history. Highly recommended."
—Library Journal (starred review)
Coverage from NPR