Gameboard of the Gods (Age of X #1) (Mass Market Paperbound)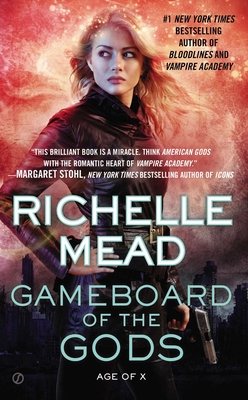 Staff Reviews
---

Fans of her long running Vampire Academy and Bloodlines books know how much Mead loves her worldbuilding. This is the series that she was born to write. In this, she envisions a future North America where the crimes run rampant and different world religions influence all. But it's also a buddy series with a likably unlikable male lead and a more-than-she-seems genetically modified soldier, Mae, who is as terrifying as the Valkyries of old. Shades of Biopunk and Mythpunk color every aspect of this series, but it ultimately comes down to the wonderful cast of characters that give it its zest. For fans of Neil Gaiman, Maggie Steifvater, Charles de Lint, and everything Richelle Mead.
— From
Krys
Description
---
The truth is, when you banish the gods from the world, they eventually come back--with a vengeance. In the near future, Justin March lives in exile from the Republic of United North America. After failing in his job as an investigator of religious groups and supernatural claims, Justin is surprised when he is sent back with a peculiar assignment--to solve a string of ritualistic murders steeped in seemingly unexplainable phenomena. Justin's return comes with an even bigger shock: His new partner and bodyguard, Mae Koskinen, is a praetorian, one of the Republic's technologically enhanced supersoldiers. Mae's inexplicable beauty and aristocratic upbringing attract Justin's curiosity and desire, but her true nature holds more danger than anyone realizes. As their investigation unfolds, Justin and Mae find themselves in the crosshairs of mysterious enemies. Powers greater than they can imagine have started to assemble in the shadows, preparing to reclaim a world that has renounced religion and where humans are merely gamepieces on their board.
About the Author
---
Richelle Mead is the author of the international #1 bestselling Vampire Academy series. Her love of fantasy and science fiction began at an early age when her father read her Greek mythology and her brothers made her watch Flash Gordon. She went on to study folklore and religion in college, and when not writing, Richelle spends her time drinking lots of coffee, watching reality TV, and shopping for dresses. She works in her pajamas and has a passion for wacky humor--especially if the 1980s are involved. Originally from Michigan, Richelle now lives with her family in Seattle, Washington.
Praise For…
---
"This brilliant book is a miracle. Think American Gods with the romantic heart of Vampire Academy. What's the point of world-building if you aren't building something and someone to love? I'm in love with every character in this book. How do I know? When I got to the last page I turned to the first and started again, thinking this is why I read."—Margaret Stohl, New York Times bestselling author of Icons
 
"A genuinely interesting, well-written, entertaining story…Justin and Mae have real chemistry."—Tor.com
 
"This book is fast-paced and suspenseful…a promising first book in a projected series."—Booklist
 
"Provocative and dark—Gameboard of the Gods is epic in scale and impossible to put down."—Kami Garcia, #1 New York Times bestselling coauthor of the Beautiful Creatures series
 
"It's dark, it's fantastical, and the chemistry is just wow!"—USA Today
 
"After years of YA, [Mead] has finally returned to her adult roots with an ambitious (and sexy!) sci-fi outing."—Entertainment Weekly