Homesick for Another World: Stories (Hardcover)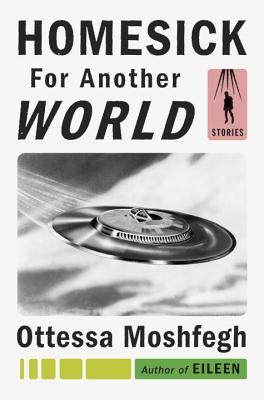 Staff Reviews
---
Homesick For Another World is a collection of short stories that capture displacement, both geographical and emotional. A professor summers in a town that she considers a slum, escaping into drugs and sex in an attempt to feel something. However, her own needs often leave her blind to the people who surround her. A young man from a small town moves to Hollywood in hopes of becoming an actor, despite his limited exposure to television or movies. His more worldly landlady serves as a mother and mentor, but her knowledge comes from a painful life of loss. In voices that are blunt, crushing, and intimate, Moshfegh captures lives with small details. These characters are sad adventurers, aching to find a sense of home, a theoretical place that may never be found. In the narrow space of a slim story, Moshefegh gives us claustrophobic truths. I have loved every word that this author has ever written. To call myself a fan is to devalue the depth of feeling that her work has inspired, the depth of understanding that she has given me, despite us never having met. I love this book.
— From
Sarah
February 2017 Indie Next List
---
"This phenomenal collection of short stories has ruined me forever. Ottessa Moshfegh is brilliant when it comes to showing off the uglier, twisted side of humanity, the part that we would never share on Facebook or Instagram. Her characters are often desperate, hungry for something they might be able to obtain if only they could name it. Their bitterness often leads to grotesque, yet honest, reactions to the world around them. I can't wait to recommend this dark little oddity to as many readers as possible."
— Becca Chavez (E), Tattered Cover Book Store, Denver, CO
Description
---
A New York Times Book Review Notable Book of 2017 An electrifying first collection from one of the most exciting short story writers of our time "I can't recall the last time I laughed this hard at a book. Simultaneously, I'm shocked and scandalized. She's brilliant, this young woman."--David Sedaris Ottessa Moshfegh's debut novel Eileen was one of the literary events of 2015. Garlanded with critical acclaim, it was named a book of the year by The Washington Post and the San Francisco Chronicle, nominated for a National Book Critics Circle Award, short-listed for the Man Booker Prize, and won the PEN/Hemingway Award for debut fiction. But as many critics noted, Moshfegh is particularly held in awe for her short stories. Homesick for Another World is the rare case where an author's short story collection is if anything more anticipated than her novel. And for good reason. There's something eerily unsettling about Ottessa Moshfegh's stories, something almost dangerous, while also being delightful, and even laugh-out-loud funny. Her characters are all unsteady on their feet in one way or another; they all yearn for connection and betterment, though each in very different ways, but they are often tripped up by their own baser impulses and existential insecurities. Homesick for Another World is a master class in the varieties of self-deception across the gamut of individuals representing the human condition. But part of the unique quality of her voice, the echt Moshfeghian experience, is the way the grotesque and the outrageous are infused with tenderness and compassion. Moshfegh is our Flannery O'Connor, and Homesick for Another World is her Everything That Rises Must Converge or A Good Man is Hard to Find. The flesh is weak; the timber is crooked; people are cruel to each other, and stupid, and hurtful. But beauty comes from strange sources. And the dark energy surging through these stories is powerfully invigorating. We're in the hands of an author with a big mind, a big heart, blazing chops, and a political acuity that is needle-sharp. The needle hits the vein before we even feel the prick.
About the Author
---
Ottessa Moshfegh is a fiction writer from New England. Her first book, McGlue, a novella, won the Fence Modern Prize in Prose and the Believer Book Award. Her short stories have been published in The Paris Review, The New Yorker, Granta, and have earned her a Pushcart Prize, an O. Henry Award, the Plimpton Discovery Prize, and a grant from the National Endowment for the Arts. Eileen, her first novel, was shortlisted for the National Book Critics Circle Award and the Man Booker Prize, and won the PEN/Hemingway Award for debut fiction.