Slapstick or Lonesome No More! (Paperback)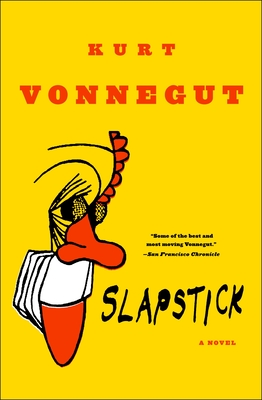 Staff Reviews
---
If you are a Vonnegut fan, you might have missed this one. Despite not being one of his better known books, Slapstick contains all of the classic satire and humor that his more iconic books have been lauded for in the past. First published in the 1970's, Vonnegut says in the prologue that this is the closest thing to a memoir that he will ever write. Well, we know now that that isn't actually true. However, it definitely makes for an interesting read.
Basically, the story involves twins that are described as monstrously ugly and only intelligent when pressing their heads together. Then some pretty dystopian stuff happens. You know, because the first part was so cheery. If you like smart humor and satire, this is a great read!
— From
Sarah
Description
---
"Some of the best and most moving Vonnegut."--San Francisco Chronicle Slapstick presents an apocalyptic vision as seen through the eyes of the current King of Manhattan (and last President of the United States), a wickedly irreverent look at the all-too-possible results of today's follies. But even the end of life-as-we-know-it is transformed by Kurt Vonnegut's pen into hilarious farce--a final slapstick that may be the Almighty's joke on us all. "Both funny and sad . . . just about perfect."--Los Angeles Times "Imaginative and hilarious . . . a brilliant vision of our wrecked, wacked-out future."--Hartford Courant
About the Author
---
Kurt Vonnegut's black humor, satiric voice, and incomparable imagination first captured America's attention in The Sirens of Titan in 1959 and established him as "a true artist" (The New York Times) with Cat's Cradle in 1963. He was, as Graham Greene declared, "one of the best living American writers." Mr. Vonnegut passed away in April 2007.
Praise For…
---
"Some of the best and most moving Vonnegut."—San Francisco Chronicle

"Both funny and sad . . . just about perfect."—Los Angeles Times
 
"Imaginative and hilarious . . . a brilliant vision of our wrecked, wacked-out future."—Hartford Courant