Blood Magic (Paperback)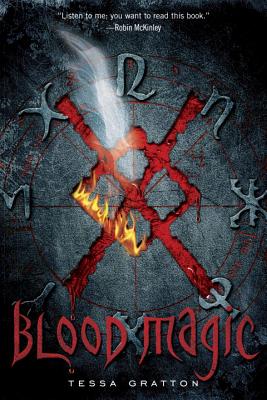 Staff Reviews
---

This was my favourite book of the year a few back. Magic and mystery finds Silla, newly orphaned after her parent's death, in the possession of a journal of her Father's. Now, while practicing the magic that requires the cost of blood, she meets Nick, an outsider who witnesses her practicing magic. What happens next will live in my head and heart as one of the best examples of YA Romance that I have ever read. Plus drama performances, masks, all matters of drama, comedy, and a swoon-worthy hero. LOVE this book!
— From
Krys
Description
---
A natural next-read for fans of Stephanie Meyer, Carrie Jones, and Becca Fitzpatrick who like their paranormal romances dark and disturbing. Instead of mythical creatures, blood magic has everything to do with primal human desires like power, wealth, and immortality. Everywhere Silla Kennicott turns she sees blood. She can't stop thinking about her parents alleged murder-suicide. She is consumed by a book filled with spells that arrives mysteriously in the mail. The spells share one common ingredient: blood, and Silla is more than willing to cast a few. What's a little spilled blood if she can uncover the truth? And then there's Nick--the new guy at school who makes her pulse race. He has a few secrets of his own and is all too familiar with the lure of blood magic. Drawn together by a combination of fate and chemistry, Silla and Nick must find out who else in their small Missouri town knows their secret and will do anything to take the book and magic from Silla.
About the Author
---
TESSA GRATTON has wanted to be a paleontologist or a wizard since she was seven. She was too impatient to hunt dinosaurs, but is still searching for someone to teach her magic. After traveling the world with her military family, she acquired a BA (and the important parts of an MA) in Gender Studies, then settled down in Kansas with her partner, her cats, and her mutant dog. You can visit Tessa at TessaGratton.com.