The Hunchback Assignments (Paperback)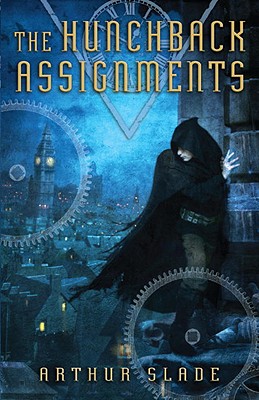 Staff Reviews
---
This was another favourite a few years back. Modo was born with a disfigurement. At the same time, he has an ability to change his features. Taken in by Mr. Socrates, who exploits Modo's shape-changing abilities for his own purposes. Mystery, espionage, intrigue...what's not to love?! Also, each book in the series pays homage to a different Victorian classic.
— From
Krys
Description
---
A gripping new series combines Steampunk, spying, and a fantastic Victorian London.

The mysterious Mr. Socrates rescues Modo, a child in a traveling freak show. Modo is a hunchback with an amazing ability to transform his appearance, and Mr. Socrates raises him in isolation as an agent for the Permanent Association, a spy agency behind Brittania's efforts to rule the empire. At 14, Modo is left on the streets of London to fend for himself. When he encounters Octavia Milkweed, another Association agent, the two uncover a plot by the Clockword Guild behind the murders of important men. Furthermore, a mad scientist is turning orphan children into automatons to further the goals of the Guild. Modo and Octavia journey deep into the tunnels under London and discover a terrifying plot against the British government. It's up to them to save their country.
From the Hardcover edition.
About the Author
---
Arthur Slade has published several novels for young readers, including Jolted: Newton Starker's Rules for Survival, Megiddo's Shadow, Tribes, and Dust, which won the Governor General's Award for Children's Literature. He lives in Saskatoon, Saskatchewan, with his wife, Brenda Baker. Visit him on the Web at www.arthurslade.com. From the Hardcover edition.