The Blind Man's Garden (Vintage International) (Paperback)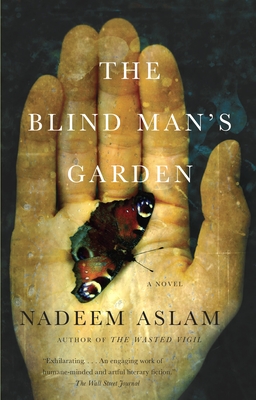 Description
---
A Publishers Weekly and Kirkus Best Book of the Year

Growing up as brothers in a small town in Pakistan, Jeo and Mikal were inseparable; however as adults their paths have diverged sharply. Jeo is newly married and a dedicated medical student, while Mikal, in love with a woman he can't have, has adopted the life of a vagabond. Nonetheless, when Jeo decides to slip across the border into Afghanistan to help civilians caught in the post-9/11 clash between American and Taliban forces, Mikal goes with him. But their good intentions cannot keep them out of harm's way. A piercing portrayal of lives upended by war, The Blind Man's Garden is an unflinching look at a world in which the line between enemy and ally is indistinct, and the desire to return home burns brightest of all.
About the Author
---
Nadeem Aslam is the author of three highly acclaimed novels: Season of the Rainbirds, which won a Betty Trask Award and was long-listed for the Man Booker Prize; Maps for Lost Lovers, winner of the Kiriyama Prize, short-listed for the International IMPAC Dublin Literary Award, long-listed for the Man Booker Prize, and named a New York Times Notable Book; and, most recently, The Wasted Vigil, short-listed for the Prix Femina Étranger and the Prix Médicis Étranger. He is also the recipient of a Lannan Literary Fellowship. In 2012 he was made a Fellow of the Royal Society of Literature.
Praise For…
---
"Exhilarating. . . . An engaging work of humane-minded and artful literary fiction." 
—The Wall Street Journal

"Aslam's beautiful novel is at once a complicated family saga . . . and a fable about guilt, innocence, and the possibility of forgiveness and understanding."
—The Boston Globe

"Riveting. . . . Chilling and profound."
—The Christian Science Monitor

"A powerful, moving novel about love, friendship, war. Magnificent."
—The Times (London)

"One [of] the most important novels of the past decade. . . . The Blind Man's Garden is as much a family saga and a love story as a dialectic reflecting the dual responses to 9/11. . . . A masterpiece [of] extraordinary prose—lush, full of vivid images and juxtapositions." 
—Counterpunch

"Hypnotic. . . . A monumental novel of love and conflict. . . . Breath-taking."
—The Independent (London)

"A gripping and moving piece of storytelling that gets the calamitous first act in the 'War on Terror' on to the page with grace, intelligence and rare authenticity."
—The Guardian (London)

"Exceptional. . . . Richly layered. . . . Aslam pulls off an extraordinary feat in creating a world of war that is dreamy, timeless and simultaneously brutal. . . . Beautiful." 
—Sydney Morning Herald (Sydney)

"The Blind Man's Garden is most impressive in its stitching together of dramatic ironies, often under the star of sensuality and underlined by a stripe of brutality. . . . There is much to admire." 
—The Times Literary Supplement (London)

"Once or twice a year, a book stuns me. . . . [The Blind Man's Garden] has done just that. . . . Extraordinary. . . . Rich imagery, sage reflections, and immaculate prose are evident on every page. . . . A chilling picture of Pakistan's government and army colluding with terrorism."
—Leyla Sanai, The Independent on Sunday (London)

"A gripping work that goes to the heart of Muslim fanaticism and Pentagon intransigence alike. Aslam is a wonderful talent, and we are lucky to have him."
—The Telegraph (London)

"The extraordinary beauty of the writing makes the experience of reading [The Blind Man's Garden] wholly exhilarating."
—The Spectator (London)

"A brave, passionate narrative that is rich in symbolism and hard truths. . . . Aslam is a gifted writer, an honest witness with the eye of a poet. . . . There is no disputing the passion and urgency of [his] work. Its elegantly raw humanity appeals to the soul." 
—Irish Times

"Aslam never forgets his duty to make all of these [characters] entirely convincing—or to serve up page after page of compelling story-telling." 
—Daily Mail (London)

"Powerful and quite astounding. . . . Unflinching. . . . Aslam's masterpiece."
—The National (Abu Dhabi)

"A wonderful book—as propulsive as any thriller yet leavened with the subtlety of a writer who can inhabit the febrile mind of a jihadist just as intuitively as he can the weeping soul of a country drowning in religious extremism." 
—Metro (London)

"A life-affirming tale of love and redemption emerging from the stark landscape of loss. Love is not consolation, it is light. The book is Aslam's prayer for the whole world, his attempt to bathe it in light." 
—Outlook India (New Delhi)