Jane (Paperback)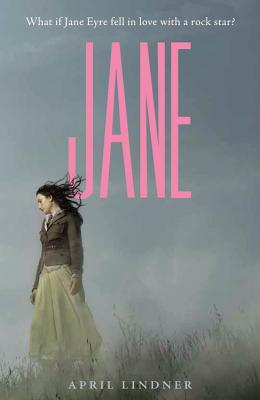 Staff Reviews
---

I resist every Bronte retelling for fear that they won't live up to their ever-impressive source material. I am a convert with this book. Lindner skillfully captivates this ardent Bronte enthusiast by reimagining a modern day Jane Eyre. Now a nanny to a once-popular rock star, Jane explores a world of musical prestige that she is wholly unprepared for all the while falling for her intriguing boss. The themes are perfect, the execution flawless. Lindner is one to watch out fo. She has also retold Wuthering Heights (Catherine) and A Room with a View (Love, Lucy)...and both are equally good.
— From
Krys
Description
---
Forced to drop out of an esteemed East Coast college after the sudden death of her parents, Jane Moore takes a nanny job at Thornfield Park, the estate of Nico Rathburn, a world-famous rock star on the brink of a huge comeback. Practical and independent, Jane reluctantly becomes entranced by her magnetic and brooding employer and finds herself in the midst of a forbidden romance. But there's a mystery at Thornfield, and Jane's much-envied relationship with Nico is soon tested by an agonizing secret from his past. Torn between her feelings for Nico and his fateful secret, Jane must decide: Does being true to herself mean giving up on true love? An irresistible romance interwoven with a darkly engrossing mystery, this contemporary retelling of the beloved classic Jane Eyre promises to enchant a new generation of readers.
About the Author
---
April Lindner is an Associate Professor of English at Saint Joseph's University in Philadelphia. Her poetry collection, Skin, received the Walt McDonald First-Book Prize in Poetry, and her poems have been featured in many anthologies and textbooks. She holds an MFA in writing from Sarah Lawrence College and a PhD in English from the University of Cincinnati. Jane is her debut novel.
Praise For…
---
"A fascinating, fantastical story line of secrets and star-crossed love...Set against a vivid, well-drawn, contemporary world, this is a compelling adaptation of an ageless romance."
-Booklist

"Well-written and faithful to the original, Lindner's story imbues Jane with the requisite innocence, stubbornness, and darkness of Brontë's protagonist...A fresh and addictive adaptation."
-Publishers Weekly

"Jane is a captivating modern love story of a young woman who refuses to compromise her values, and fans of Bronte's Jane Eyre are sure to praise this rousing retelling with its rock 'n' roll twist."
-Associated Press

"Lindner's love story delivers an entrancing star-crossed relationship, and it is not necessary to be familiar with the original to enjoy it."
-School Library Journal

"I couldn't put Jane down! Whether you love literature, romance, thrillers, or anything in between, you'll get swept up in Jane all the way to its scrumptious, satisfying end."
-Sara Shepard, #1 New York Times bestselling author of the Pretty Little Liars series

"There's nothing plain about Jane. April Lindner executes the cool trick of being stubbornly loyal to the well-loved original while creating something totally new and captivating."
-Cecily von Ziegesar, #1 New York Times bestselling author of the Gossip Girl and It Girl series