Dewey the Library Cat: A True Story (Hardcover)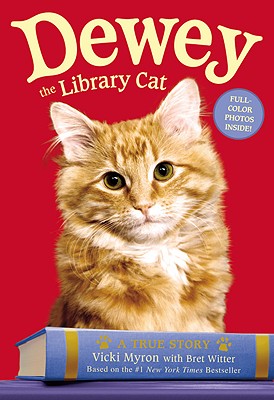 Description
---
In the tradition of Marley: A Dog Like No Other, this is the story of a cat who was more than a pet, and the amazing effect he had on the people around him. This middle-grade adaptation of the Grand Central bestseller Dewey features an 8-page photo insert, including exclusive, never-before-seen photos of the Dew!

Now everyone's favorite library cat can inspire a new audience of young readers with his story of courage and love. Abandoned in a library book drop slot in the dead of winter, this remarkable kitten miraculously endured the coldest night of the year. Dewey Readmore Books, as he became known, quickly embraced his home inside Spencer's public library, charming the struggling small town's library-goers, young and old. As word of Dewey's winning tail, or rather his tale, spread, the library cat gained worldwide fame as a symbol of hope and proof positive that one small cat could change a town, one reader at a time.
About the Author
---
Vicki Myron was born on a farm fifteen miles from
Spencer, Iowa
. At the age of thirty-four, she graduated summa cum laude from
Mankato
State
University
and she has a masters degree from
Emporia
State
University
.
She worked at the Spencer Public Library for twenty-five years, the last twenty as director. She lives in
Spencer, Iowa
. Her website is www.deweyreadmorebooks.com
Bret Witter has collaborated with Vicki Myron since 2006 and has enjoyed every minute. Raised in North Alabama, he currently lives in Louisville, Kentucky, with his wife and two children, Lydia and Isaac.