Eyes Like Stars (Theatre Illuminata #1) (Paperback)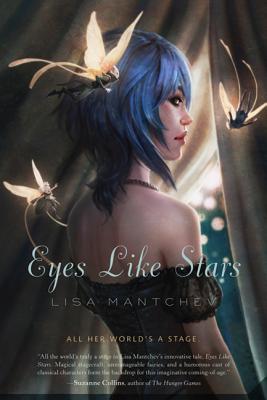 Staff Reviews
---
This is one of the most inventive stories that I have ever read in a long time. Bertie lives in a theatre where the casts of famous plays are real, bound there by a magic book. Funny, magical, faeries and monologues and living Shakespeare characters (oh my!)... plus, the love interests are really cool.
— From
Krys
Autumn 2009 Kids' Indie Next List
---
"This is one of the most inventive stories I have come across in a long time. Bertie lives in a theater where the casts of plays are real, bound by a magic book. This sweet and brilliant debut will have readers yearning for more."
— Krys Tourtois, Schuler Books & Music, Lansing, MI
Description
---
The fantastic first novel in Lisa Mantchev's Theatre Illuminata trilogy
Welcome to the Theatre Illuminata, where the characters of every play ever written can be found behind the curtain. The actors are bound to the Theatre by The Book, an ancient and magical tome of scripts. Bertie is not one of the actors, but they are her family. And she is about to lose them all because The Book has been threatened, and along with it the Theatre. It's the only home Bertie has ever known, and she has to find a way to save it. But first, there's the small problem of two handsome men, both vying for her attention. Nate, a dashing pirate who will do anything to protect Bertie, and Ariel, a seductive air spirit. The course of true love never did run smooth. . . .
With Eyes LIke Stars, Lisa Mantchev has written a debut novel that is dramatic, romantic, and witty, with an irresistible and irreverent cast of characters who are sure to enchant the audience.
About the Author
---
Lisa Mantchev is the author of the Theatre Illuminata series, including Perchance to Dream and Eyes Like Stars. She grew up in the small Northern California town of Ukiah. She wrote her first play in the fourth grade, and has been involved in theater ever since. She received two scholarships to study drama at the University of California, Irvine. She won the Chancellor's Award For Undergraduate Research in Drama her senior year while studying in the Campuswide Honors Program. After graduation, she taught English at the Lycee Internationale de Los Angeles and created their Drama After School Program. In between report cards and drafting scripts for Winter and Spring productions, she wrote fiction. Her first professional short fiction sale was in 2002, and her debut trilogy sold in 2007. Mantchev makes her home on the Olympic Peninsula of Washington state with her husband Angel, her daughter Amelie and four hairy miscreant dogs. When not scribbling, she can be found on the beach, up a tree, making jam or repairing things with her trusty glue gun.
Praise For…
---
"Lisa Mantchev's theatrical fantasy Eyes Like Stars pits a plucky orphan, Beatrice Shakespeare Smith, and her fairy attendants against the wiles of Ariel and a stuffy stage manager."—New York Times Book Review
"All the world's truly a stage in Lisa Mantchev's innovative tale, Eyes Like Stars. Magical stagecraft, unmanageable fairies, and a humourous cast of classical characters form the backdrop for this imaginative coming-of-age."—Suzanne Collins
"With an iron-willed girl hero whose magic is with words, and a universe that is also the ultimate theater, Eyes Like Stars is the most unusual fantasy I've read this year! I recommend it to anyone who loves drama, strong girls, and rowdy faery folk!"—Tamora Pierce
"Electric . . . delicious . . . fascinating . . . vivid . . . smart and sassy . . . bawdy and hilarious . . . Brava! Encore!"—Kirkus Reviews, Starred Review
"Bertie's determined efforts to become invaluable form the basic plot in this wildly imagined adventure . . . Mantchev clearly knows theater from all angles, and she uses inventive play-within-play formats to create a tumble of multiple, even metaphysical narratives filled with delicious banter and familiar characters from the dramatic canon. Many teens, particularly those with some theatrical background, will look forward to the sequel suggested at the end of this bravely flamboyant and wholly original romp."—Booklist
"Mantchev's first novel feels dreamlike . . . underneath is a solid story about the search for happiness and identity. Inside jokes will delight drama club devotees . . . but this passionate debut should attract a broader readership as well."—Publishers Weekly