Wuthering Heights: (Penguin Classics Deluxe Edition) (Penguin Classics Deluxe Editions) (Paperback)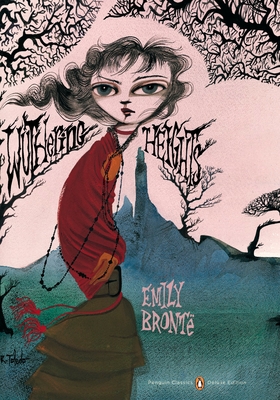 List Price: $18.00
Our Price: $17.00
(Save: $1.00 6%)
Staff Reviews
---
Wuthering Heights and I are old friends. Take a starving boy and put him into a good house and see what happens to him even as he endures bigotry, bullying, and a love that will not ignore his meager beginnings...*Sigh* poor Heathcliff! Angst-riddled and full of romantic rectangles, this book has touched so many generations and will continue to find it's way into reader's hearts.
— From
Krys
Description
---
'May you not rest, as long as I am living. You said I killed you - haunt me, then' Lockwood, the new tenant of Thrushcross Grange on the bleak Yorkshire moors, is forced to seek shelter one night at Wuthering Heights, the home of his landlord. There he discovers the history of the tempestuous events that took place years before: of the intense passion between the foundling Heathcliff and Catherine Earnshaw, and her betrayal of him. As Heathcliff's bitterness and vengeance is visited upon the next generation, their innocent heirs must struggle to escape the legacy of the past.
About the Author
---
Emily Jane Bronte was born July 30, 1818, at Thornton in Yorkshire, the fifth of six children of Patrick and Maria Bronte. Although Emily did spend a few short times away from Haworth, it was her primary residence and the rectory where she resided now serves as a Bronte Museum. Emily's only close friends were her brother Branwell and her sisters Charlotte and Anne. Emily died of tuberculosis on December 19, 1848, also at the age of thirty, and never knew the great success of her only novel Wuthering Heights, which was published almost exactly a year before her death. Born in Havana, Cuba in 1961, Ruben Toledo is an illustrator, painter, sculptor and filmmaker. His fashion illustrations have appeared in Vogue, Harper's Bazaar, The New Yorker, Visionaire, Paper, Interview and The New York Times, and his commissions have included Tiffany & Co., Estee Lauder and Nordstrom's national advertising campaign. Toledo and his designer wife Isabel Toledo are the subject of both a book and museum exhibition entitled Toledo/Toledo: A Marriage of Art and Fashion. Together they were recipients of the 2005 Cooper-Hewitt Design Award for their work in fashion.