Peace, Locomotion (Paperback)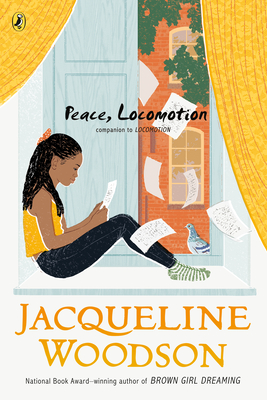 Description
---
The stunning companion to the National Book Award finalist--from a three-time Newbery Honor winning author

Jaqueline Woodson is the 2018-2019 National Ambassador for Young People's Literature Twelve-year-old Lonnie is finally feeling at home with his foster family. But because he's living apart from his little sister, Lili, he decides it's his job to be the "rememberer"--and write down everything that happens while they're growing up. Lonnie's musings are bittersweet; he's happy that he and Lili have new families, but though his new family brings him joy, it also brings new worries. With a foster brother in the army, concepts like Peace have new meaning for Lonnie.Told through letters from Lonnie to Lili, this thought-provoking companion to Jacqueline Woodson's National Book Award finalist Locomotion tackles important issues in captivating, lyrical language. Lonnie's reflections on family, loss, love and peace will strike a note with readers of all ages.
About the Author
---
Jaqueline Woodson is the 2018-2019 National Ambassador for Young People's Literature. Born on February 12th in Columbus, Ohio, Jacqueline Woodson grew up in Greenville, South Carolina, and Brooklyn, New York and graduated from college with a B.A. in English. She now writes full-time and has recently received the Margaret A. Edwards Award for lifetime achievement in writing for young adults. Her other awards include a Newbery Honor, two Coretta Scott King awards, two National Book Award finalists, and the Los Angeles Times Book Prize. Although she spends most of her time writing, Woodson also enjoys reading the works of emerging writers and encouraging young people to write, spending time with her friends and her family, and sewing. Jacqueline Woodson currently resides in Brooklyn, New York.