The BFG (Paperback)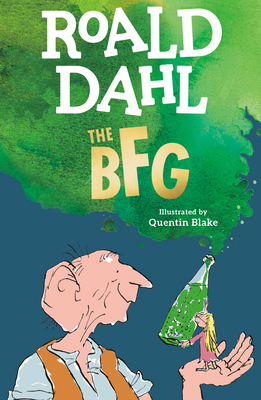 Staff Reviews
---
Before you see the movie, check out the book! The BFG (Big Friendly Giant) is a children's classic that has remained as entertaining now as it was when it was first published. AND it is totally worth reading again as an adult. It is the story of an orphan girl named Sophie who is kidnapped in the night by a giant and begins a new life with him in his cave. The two form an unlikely friendship.
The silliness of the language makes up a lot of the humor of the story, but it is often unexpectedly poignant too. Consider the BFG's statement, "'Words,' he said, 'is oh such a twitch-tickling problem to me all my life.'" Ostensibly, the BFG's lack of education makes his communication skills inexact and jumbled. However, there is also the more emotional and adult understanding of how words can often fail us. That is the genius of the book, the ability to say things that hold more meaning the longer that you think about them.
This book is simple enough for young readers and thoughtful enough to satisfy adults. I suggest reading it together as a family.
— From
Sarah
Description
---
Now a major motion picture directed by Steven Spielberg Starring Mark Rylance, Ruby Barnhill, Penelope Wilton, Jemaine Clement, Bill Hader, and Adam Godley.
The BFG is no ordinary bone-crunching giant. He is far too nice and jumbly. It's lucky for Sophie that he is. Had she been carried off in the middle of the night by the Bloodbottler, or any of the other giants--rather than the BFG--she would have soon become breakfast. When Sophie hears that the giants are flush-bunking off to England to swollomp a few nice little chiddlers, she decides she must stop them once and for all. And the BFG is going to help her
From the bestselling author of Charlie and the Chocolate Factory and Matilda
About the Author
---
Roald Dahl was a spy, ace fighter-pilot, chocolate historian and medical inventor. He was also the author of Charlie and the Chocolate Factory, Matilda, The BFG and many more brilliant stories. He remains the World's No.1 storyteller. Find out more at roalddahl.com.