The Good Luck of Right Now (Paperback)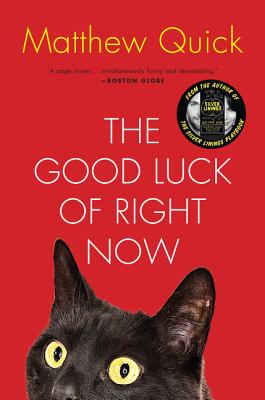 Staff Reviews
---
I adore this book! Bartholomew is used to living with his mother whose mental health is declining with her increasing age. In her confusion, she dies believing that her son is not her son, but "Richard." With her passing, Bartholomew is left completely alone in the world and to cope he begins writing letters to his mother's favorite movie actor, Richard Gere. The book is composed of these letters. As Bartholomew spends time in therapy, he starts to form his own goals which surround friendship and love. He begins to engage with a variety of other people who also feel like misfits and to understand that he too is worthy of companionship.
Profoundly kind and gentle in its approach, this novel addresses the mental fragility that resides within us all and the need to feel connected to others and to the world. Quick's book is often humorous, but not at the expense of his characters. He creates people whose eccentricities might generate a few laughs, but laughter that comes with understanding and compassion.
If you want a novel that can make you think, feel, and smile, then look no further!
— From
Sarah
March 2014 Indie Next List
---
"Can the hero of a coming-of-age-story be 39 years old? Is Jung's theory of synchronicity a valid supposition? And what would Richard Gere do? These and other intriguing questions are addressed in Quick's poignant new novel. After the death of his mother, Bartholomew Neil faces the future alone, pitifully unprepared for the realities of life. He embarks upon a one-sided correspondence with Gere, and although there is never a response, it somehow provides the wisdom and support Bartholomew needs to confront the mysteries of his past and to meet the challenges of his future. Accompanied by an appealing array of eccentric characters, Bartholomew makes his own good luck and thoroughly engages the reader in the process."
— Lynn Beeson, Loganberry Books, Shaker Hts, OH
Description
---
From Matthew Quick, the New York Times bestselling author of The Silver Linings Playbook, comes The Good Luck of Right Now, a funny and tender story about family, friendship, grief, acceptance, and Richard Gere--an entertaining and inspiring tale that will leave you pondering the rhythms of the universe and marveling at the power of kindness and love.
For thirty-eight years, Bartholomew Neil has lived with his mother. When she gets sick and dies, he has no idea how to be on his own. His redheaded grief counselor, Wendy, says he needs to find his flock and leave the nest. But how does a man whose whole life has been grounded in his mom, Saturday mass, and the library learn how to fly?
Bartholomew thinks he's found a clue when he discovers a "Free Tibet" letter from Richard Gere hidden in his mother's underwear drawer. In her final days, mom called him Richard--there must be a cosmic connection. Believing that the actor is meant to help him, Bartholomew awkwardly starts his new life, writing Richard Gere a series of highly intimate letters. Jung and the Dalai Lama, philosophy and faith, alien abduction and cat telepathy, the Catholic Church and the mystery of women are all explored in his soul-baring epistles. But mostly the letters reveal one man's heartbreakingly earnest attempt to assemble a family of his own.
A struggling priest, a "Girlbrarian," her feline-loving, foul-mouthed brother, and the spirit of Richard Gere join the quest to help Bartholomew. In a rented Ford Focus, they travel to Canada to see the cat Parliament and find his biological father . . . and discover so much more.