The Beautiful Indifference: Stories (P.S.) (Paperback)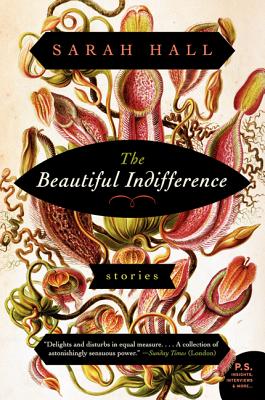 Staff Reviews
---
"Women can live far more comfortably with secrets, don't you think?"
Hmm...This collection of short fiction is filled with uncomfortable secrets. At times strange and reminescent of the fairytales of Angela Carter, but always a distinct voice. Hall gives you brief glimpses into unsettling places.
— From
Sarah
Description
---
Winner of the Portico Prize
Winner of the Edge Hill University Short Story Prize
Short-listed for the Frank O'Connor International Short Story Award
Sarah Hall has been hailed as "one of the most significant and exciting of Britain's young novelists" (The Guardian). Now, in this collection of short fiction published in England to phenomenal praise, she has created a work at once provocative and mesmerizing.
Praise For…
---
"Reaches a standard that makes award juries sit up and take note."
-Lionel Shriver, Financial Times

"Visual and vibrant. Literary and lyrical."
-Kirkus Reviews

"Shows her characteristic ability to cause disquiet ... Hall's sharply perceptive observations strike like slaps ... These are stimulating, unsettling stories."
-The Independent on Sunday

"These stories constantly thwart one's dramatic expectations -- and are all the more dramatic for it ... This prose, particularly when used to convey the bleakness of the Cumbrian landscape, is wonderful ... She does darkness so very well."
-The Times (London)

"Balancing muscularity with achingly beautiful prose, these stories are dark, raw and heartbreaking. An immensely satisfying and haunting collection."
-Clare Wigfall

"Individually stunning, together these stories comprise a tour-de-force collection that has reignited my love of the form."
-S.J. Watson

"Luscious short stories from uber-talented Cumbrian writer Sarah Hall, all told in ravishing prose."
-Metro

"The Beautiful Indifference illustrates that short fiction is indeed a finely wrought art form, and Hall is an artist of considerable and concise skill. Each story is a gem, but together they from a collection of astonishingly sensuous power."
-Sunday Times (London)

"Hall's voice is strong and distinctive - even, in single, elevated passages, exquisite."
-Lionel Shriver, Financial Times

"Sarah Hall's writing is breathtaking...I did actually stop breathing once or twice...I loved it."
-Sadie Jones, author of The Outcast, Small Wars, and The Uninvited Guests

"Hall's stories are disturbing and delicate, surprising and sad, assured and sensual, with a deliciously dark tint to their edges. What better recommendation for a book of short stories than to be so enchanted that you want to flip them over and start all over again?"
-Peggy Hughes, Scotland on Sunday

"Sarah Hall should be on everyone' reading list : I think she's the best British writer around right now...Her deftly exquisite marshalling of language - rendering it fierce and brutal, poetically stark, liltingly sensuous, even unabashedly sexual - matches the sinuous moods of these seven distinctive and accomplished stories."
-Jonathan Ruppin, Foyles

"Hall's vaunted writing prowess is apparent throughout... Without judgement, Hall seems to set her characters, and by extension all of us, on a scale with animals, rutting by instinct, violent at heart, governed by the same needs for warmth, sex, shelter and food."
-Jodie Mullish, Telegraph

"Seven skillfully adrenalised stories, precise and sensual, in which the scent of violence is a constant."
-Helen Simpson, The Guardian

"Shows her characteristic ability to cause disquiet ... Hall's sharply perceptive observations strike like slaps ... There is a deeply sensual element to her writing: it is visceral and instinctive ... It's like sinking into a Rothko painting. Language is used inventively. These are stimulating, unsettling stories that... intrigue and mesmerise."
-The Independent on Sunday

"Hall evokes her landscapes with bewitchingly vivid prose. Her writing is gutteral and visceral…her characters are raw and sinewy. Every tale…delights and disturbs,..illustrates that short fiction is…a finely wrought art…and Hall is an artist of considerable…skill. [A] collection of astonishingly sensuous power...Hall is a writer of both rare vision and talent."
-Sunday Times (London)

"These stories...constantly thwart one's dramatic expectations--and are all the more dramatic for it. This prose...is wonderful."
-The Times (London)

"...the best British writer around right now."
-Jonathan Ruppin

"THE BEAUTIFUL INDIFFERENCE is a work of art. Each of these stories takes the reader so fully, sensually, and immediately into its world that there is no possibility of putting the book down in the middle of one."
-Laura Kasischke, author of the NBCC-winning Space, in Chains

"Hall's women are cheated on, broken up with, sick, bored, lonely; and her writing pulls the reader into subtly rendered but deeply felt worlds . . . American readers who cut their teeth on Joyce Carol Oates . . . will want to give this collection a try."
-Booklist