We Only Know So Much (P.S.) (Paperback)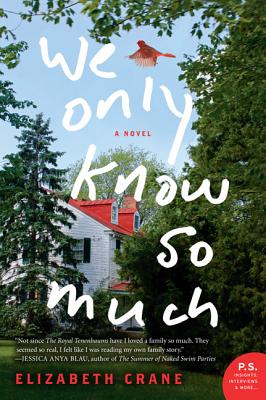 Staff Reviews
---
Family, longing for ourselves, and naked humanity. The characters here are so lovingly and intricately drawn, and their stories are told from the perspective of an omniscient chorus, the titular "We." This much we do know: Crane's gift for reflecting back to us ourselves and our relationships is immense.
— From
Anne
Description
---
A funny and moving debut novel that follows four generations of a singularly weird American family, all living under one roof, as each member confronts a moment of crisis in a narrative told through a uniquely quirky, charming, and unforgettable voice. Acclaimed short story writer Elizabeth Crane, well known to public radio listeners for her frequent and captivating contributions to WBEZ Chicago's
Writer's Block Party
, delivers a sublime, poignant, and often hilarious first novel, perfect for fans of Jessica Anya Blau's
The Summer of Naked Swim Parties
and Heather O'Neill's
Lullabies for Little Criminals
.
"Crane has a distinctive and eccentric voice that is consistent and riveting." --New York Times Book Review

Praise For…
---
"At last a novel from Elizabeth Crane! With her expert humorist's eye for detail, she gives us a playful, passionate story of longing, heartbreak, and of the gargantuan human will. You won't be able to stop reading."
-Deb Olin Unferth, author of Revolution

"Not since The Royal Tenenbaums have I loved a family so much. The Copelands of WE ONLY KNOW SO MUCH are wonderfully eccentric, hilariously not self-aware and strangely adorable. They seemed so real, I felt like I was reading my own family story."
-Jessica Anya Blau, author of The Summer of Naked Swim Parties and Drinking Closer to Home

"This is the kind of book that inspires a person to see the beauty in the ordinary, to stop concentrating on others' failings long enough to see their spark and maybe rediscover his or her own."
-Susan Henderson, author of Up from the Blue

"Crane delivers a unique and dizzying tale that delves into the emotional life of a family teetering on the brink of everything. . . . The beauty in Crane's novel is her sweep from acid commentary to heartfelt portrayal of real-life loves and losses."
-Kirkus Reviews

"Crane's novel is filled with deliciously idiosyncratic characters, humorous and distinct narration, and a whole lot of personality. Each character's emotional growth is just enough to satisfy, without being overbearing. . . . Crane's summer novel has undeniable heart."
-Publishers Weekly

"This is an irresistible and winsome read. A truly astute tale of love neglected and reclaimed, family resiliency, spiritual inquiries, and personal metamorphoses."
-Booklist (starred review)

"A beautiful, warmhearted, ferociously honest debut that will pull you in with its chorus of true voices and catch you off guard with its playful, restless edginess."
-Patrick Somerville, author of The Cradle and This Bright River

"What I know for sure is this: Elizabeth Crane understands family. The simple pleasures, the daily outrage, the constant burying of secrets. Be careful what you say to your children -- they are listening. A funny and remarkable first novel."
-Marcy Dermansky, author of Bad Marie and Twins

"Its style is literary, with an edge: The point of view is wicked, the characters prickly, the language not quite quotable here. I can't wait to read past the first chapter."
-Los Angeles Times

"The Copelands would feel right at home in a Noah Baumbach movie. . . . Our narrator is an omniscient 'We' who reports the goings-on of the family with the breathless glee of an incurable gossip."
-Entertainment Weekly

"Like any good story writer, she had me in the first two paragraphs. . . . A treat to read. The characters are crisp and enjoyable; the narrator is smart and witty."
-IOWA PRESS-CITIZEN