Wicked Lovely (Paperback)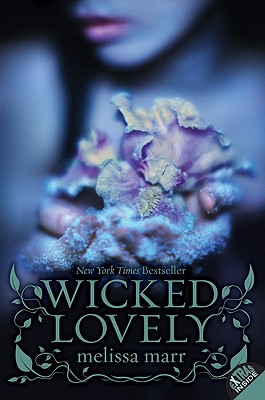 Staff Reviews
---

Aishlinn sees fairies. She doesn't want to, but she does. When a fairy named Keenan keeps pursuing her, she is drawn into an ancient battle between warring courts, even though all she wants is a friendly boy back home who lives in a train. Dark and intriguing, perfect for fans of Holly Black and Cassandra Clare.
— From
Krys
Description
---
Fans of Sarah J. Maas and Holly Black won't be able to resist the world of Melissa Marr's #1 New York Times bestselling series, full of faerie intrigue, mortal love, and courtly betrayal.
Rule #3: Don't stare at invisible faeries.
Aislinn has always seen faeries. Powerful and dangerous, they walk hidden in mortal world. Aislinn fears their cruelty--especially if they learn of her Sight--and wishes she were as blind to their presence as other teens.
Rule #2: Don't speak to invisible faeries.
Now faeries are stalking her. One of them, Keenan, who is equal parts terrifying and alluring, is trying to talk to her, asking questions Aislinn is afraid to answer.
Rule #1: Don't ever attract their attention.
But it's too late. Keenan is the Summer King who has sought his queen for nine centuries. Without her, summer itself will perish. He is determined that Aislinn will become the Summer Queen at any cost--regardless of her plans or desires.
Suddenly none of the rules that have kept Aislinn safe are working anymore, and everything is on the line: her freedom, her best friend Seth, her life--everything.
Praise For…
---
"A fully imagined faery world which even non-fantasy (or faerie) lovers will want to delve into."
-Publishers Weekly (starred review)

"Enjoyably sultry."
-Kirkus Reviews

"Riveting and dark. I love this tale!"
-Tamora Pierce

"A debut that reads like the work of a seasoned pro."
-Charles deLint

"The unusual combination of past legends and modern-day life gives a unique twist to this "fairy" tale."
-School Library Journal

"Melissa Marr adds elegantly to the sub-genre of Urban Faery with this enticing, well-researched fantasy for teens."
-Annette Curtis Klause

"A modern-day fairy tale, wherein the girl saves herself. Many fantasy readers will find themselves happily at home here.
-Library Journal